Massage Therapy At Fairlawn Family Chiropractic
Massage has been in use for thousands of years, and more people are incorporating it into their wellness routine and for relief from injuries. Our fast-paced world has contributed to a high level of stress in our daily lives, which in many cases leads to sickness and disease.
This therapy has been proven to help manage stress, anxiety, and the pressures of life. Many athletes have added it to their routine to help with the toll demanding training schedules take on their muscles and joints. It also helps them prepare for and recover faster after events.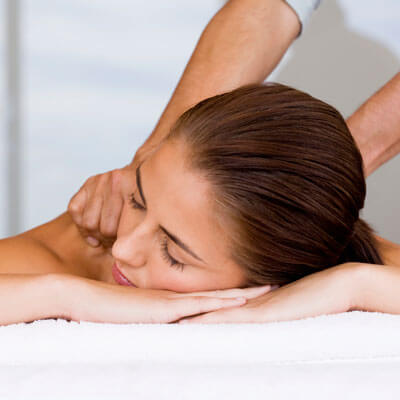 Teaming Up With Chiropractic
Chiropractic has a complementary relationship with massage therapy. Having a session before your visit loosens the muscles, allowing the doctor to make the adjustment easier and deeper. It also helps the correction last longer.
After adjustment, bodywork helps with soreness, improves mobility, and increases circulation to promote healing.
What Are Some Benefits?
Relaxation is the most obvious benefit of massage therapy. This form of bodywork can also lower blood pressure, relieve muscle tension, increase range of motion, and enhance physical performance. Some conditions which might also benefit include:
Stress
Postoperative pain
Anxiety
Back pain
Fibromyalgia
Joint pain
Neck pain
Headaches/migraines
Sleep issues
Depression
Arthritis
Cardiovascular issues
Carpal tunnel syndrome
And more
Our Therapists
Savannah Gilbert
Savannah is a licensed massage therapist. Specializing in several types of massage, including deep tissue, sports, medical, and Swedish, she offers her patients the best options to get the results they need. She also does kinesio taping.
With extensive hands-on experience working at numerous health and wellness facilities, Savannah provides patients with the highest quality care. She has helped people of all ages and fitness levels, and various backgrounds, achieve their health goals. Book today!
Taylor Sherwood
Taylor is a licensed massage therapist who genuinely loves caring for people through massage and bodywork. She offers Swedish, deep tissue, and prenatal massage. Cupping therapy is also available. Book today!
Schedule a Session
Use the links above to book an appointment directly with our massage therapists.
---
Massage Therapy Fairlawn, Akron OH | (330) 800-9009